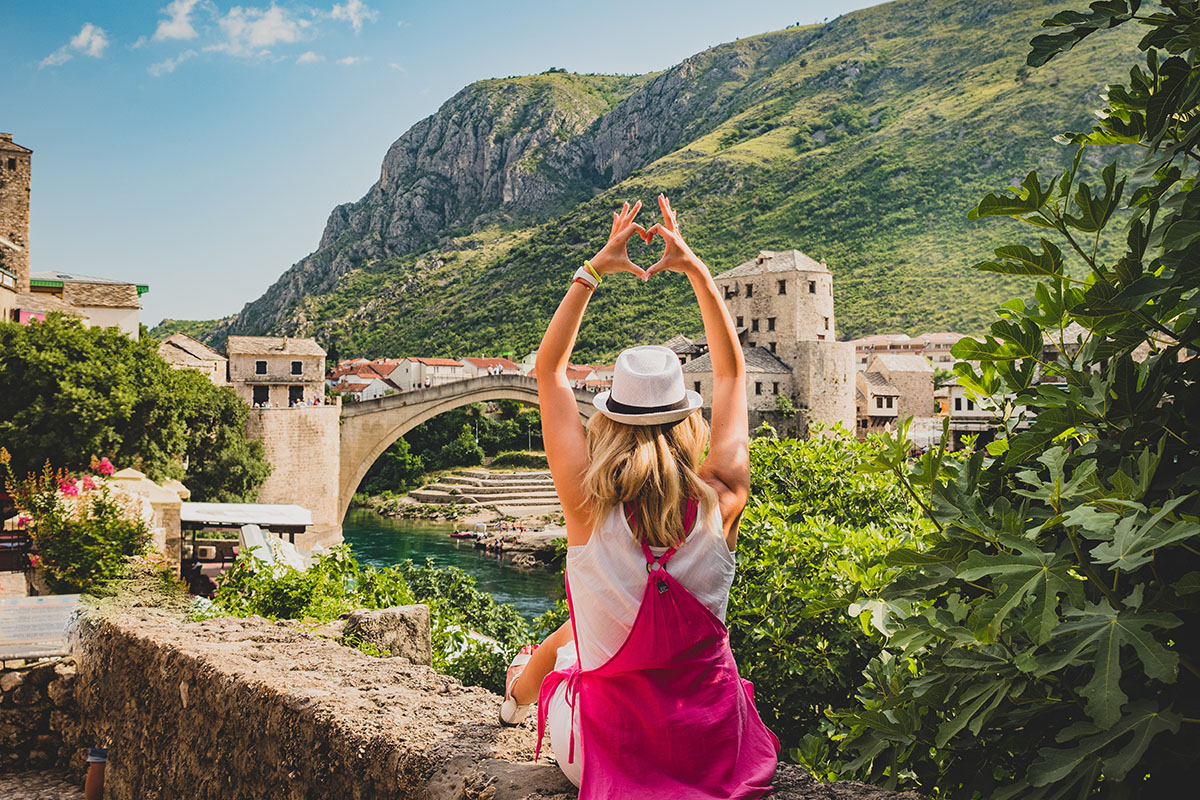 MOSTAR DAY TRIP FROM DUBROVNIK
Explore Mostar and Mesmerizing Kravice Waterfalls
Oriental beauty and wild nature in one day
If you think that besides Adriatic coastline there is no more natural beauties in this region, you are wrong. This tour does regular Mostar visit as a highlight of the tour with additional visit of Kravice waterfalIs. Tour starts from Dubrovnik and after picking up all the group, we drive to the north of the country, to the border with Bosnia. From there we drive to Neum, the only small town on the coast of Bosnia and Herzegovina. After crossing the border we drive to Kravice, first sightseeing stop on our tour. In spring this stunning mini-Niagara how it is called by the locals,of 25m cascades pounds itself into a dramatic, steamy fury. In summer the falls themselves are less impressive but surrounding pools become shallow enough for swimming. After visiting Kravice, we drive to Mostar to visit the old town and famous old bridge, the most important monument of oriental architecture in this town. First when we come there is a short walking tour with a local guide and after the tour free time to visit the place on your own and to enjoy local meals. From Mostar we travel back to Dubrovnik and tour ends with complimentary drop off at your pick up location.
Suggested Itinerary
1st stop: Kravice Waterfalls
Kravice waterfalls are about 25 meters high and divided into 20 falls. It is a protected nature reserve, settled on Trebižat river in the Herzegovinian region of Bosnia and Herzegovina. The waterfalls cascade off a particularly large tuff limestone deposit and onto the lake below. Chaste trees, poplars and figs form the surroundings. The water is particularly cool even during hot summer days. But, if you want you can have a swim in the lakes, so is recommended to bring your beachwear.
2nd stop: The Old Bridge (Stari Most) in Mostar
The Old Bridge across the river Neretva connects two parts of Mostar. The original bridge was commissioned by Suleiman the Magnificent in 16th century and stood there for 427 years, until it was destroyed in 1993 in Homeland war, and then rebuilt again in 2004. As we arrive here, you are free to explore the bridge and visit small streets and charming shops nearby.
Tour itenerary:

- Hotel pick up ( from 07:00 to 8:30)
- Drive to Neum, short coffee break
- 09:50*- Drive to the border crossing
- 10:30*- Border procedure
- Drive to Kravice, 45 minutes long visit
- 12:45*- Expected arrival to Mostar, tour with the local guide, free time to visit the old town and time for lunch
- 15::15*- Expected departure to Dubrovnik, short coffee break on the way back.
- 17:30/ 19:30-*- Arrival to Dubrovnik, hotel drop off

* - Excursion schedule may be changed in case of unpredictable traffic or other conditions that agency can not influence on. Bring passport.

PRICE: 50.00 EUR (we charge 15,00 EUR deposit to guarantee your seat)
PRICE INCLUDES: transportation, pick up/drop off, guide
PRICE DOES NOT INCLUDE: lunch, tips, entrance ticket to museum, waterfalls entrance cost 10 EUR
WhatsApp contact for booking: +385959119714 (Ivan)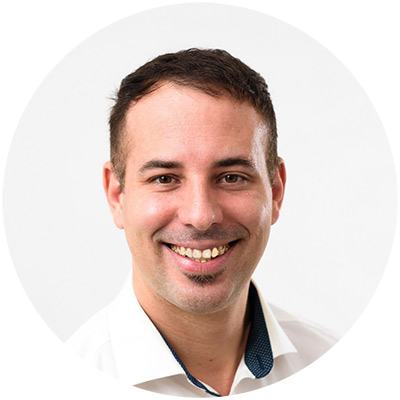 Ivan Hure
Hospitality Manager
This is quite a long day but I personally think we'll worth it. Was picked up at 6.30sm (first pick up) then once all other pick ups done on the way. The board crossing took ages but then off to waterfalls which were beautiful, we spent hour there I don't think your really need hour unless in summer when swimming. Then on to Mostar which was just lovely town very pretty and interesting. Both Maria guide in the bus and guide who walk with us around Mostar were lovely and very informative. We had 2hrs free time here maybe 2.5 would be better. Then 2.5hr drive bavk right past ston which actually would've been nice stop for 30mins(!) . Maria was guide on the bus and she had lots interesting information to share.
The guide was super informative and gave the group a great overview of the history of each area. I learned so much! The views were absolutely incredible. Highly recommend!
Kravice Falls were beautiful and a great way to start our journey. Mostar was beautiful but also fascinating. The influence of the Ottoman Empire was clear and provided for a very interesting experience. The recent history and tragedy were present everywhere, even as you marveled at how lovely the town was. We were told by our guide, Maria, that only local guides were allowed to do tours in Mostar, but they wouldn't start until April, so we were left on our own. Despite this, I felt that Maria shared enough information to ensure we had a good time exploring Mostar on our own. We also had enough time to have a meal and it was one of the best I had on my trip. Maria shared lots of information on the way and inspired me to do a little more digging into the recent history of the area. Truly, it's one of my favorite tours I have done.
We had Maria as our tour guide. She is fantastic! We learnt so much about Croatian's history on this tour. The bus is very comfy and it was a painless process to going through the border - all thanks to Maria. Would definitely recommend this tour to others.
charisse p
Wiesbaden, Germany
Great way to see nearby Bosnia and Herzegovina in a day. Discovered its natural beauty and really opened my eyes to their war torn past. I don't know why people complain about not being wowed. It is what it is. After seeing all the tourist areas we walked further into town and had Turkish coffee in Fabrika Coffee and fresh pressed pomegranate juice from a street vendor. Wonderful day.
The trip was well organised, coach was comfortable and the guide provided really useful and informative info, Mostar was incredible and the local guide was very good. The waterfalls were beautiful, highly recommend
Great way to see nearby Bosnia and Herzegovina in a day. Discovered its natural beauty and really opened my eyes to their war torn past. I don't know why people complain about not being wowed. It is what it is. After seeing all the tourist areas we walked further into town and had Turkish coffee in Fabrika Coffee and fresh pressed pomegranate juice from a street vendor. Wonderful day.
Mini bus collected is from the hotel - was very punctual. The driver and the guide were both very friendly and the guide gave us lots of interesting information on the way down. Stopped at Neum just over the BH border - stunning views and a nice little cafe - but accepts cash only. Our guide in Mostar - Al - was amazing. Down to earth, humorous and added his own personal stories of Mostar which brought the trip alive. Also enjoyed the banter that he had with the other tour guides - I think they are all from Fortune tours. The only criticism is that we felt we would have liked more time in Mostar - however the Kravice falls were spectacular and a perfect end to the day before boarding the bus back to Dubrovnik. A long day - but thoroughly worth it - learnt so much about the history of beautiful Mostar and it's tragic, war torn past…
My partner and I were privileged enough to visit Kravice Waterfalls and Mostar as part of a small group excursion with Laus Travel via Dubrovniktrip. Ivan arranged the trip on our behalf. Our guide and host for the day was the wonderful Josh. Josh shared a wealth of information and knowledge of the region with us on our journey from Dubrovnik to Kravice Waterfalls, before heading onto Mostar. Josh provided an in-depth chronology and history of Croatia and former Yugoslavia and did so in an interesting, engaging and entertaining manner. Josh managed to balance the complex and colourful history of the area with humour and humility. As beautiful and breathtaking as Kravice Waterfalls and Mostar are, the tour is worth it alone to see the coastal and rural landscape of Croatia and Bosnia & Herzegovina. Josh engaged with our small group, answering any questions that we had whilst also meeting any requests/needs of the group. We would highly recommend this tour and when we return to Dubrovnik in future, we will make further bookings with Laus Travel. Thank you Josh for an amazing adventure and our first introduction to Croatia
Timely and convenient hotel pick-up before the tour - Bus is modern and very comfortable. No bathroom on board. A/C worked like a charm. - Bus guide was very nice and organized. She was willing to answer any questions and provided interesting facts about Croatia and Bosnia along the ride - Bus to Mostar was about 3 hours and they include a pit stop along the way there and back for any bathroom or coffee breaks. They only accept cash at this cafe. They accept many types of currency. Tip: there this a super market underneath the cafe where you can purchase a large bottle of water or any snacks if needed. I recommend getting a huge water. Bosnia is generally warmer than Croatia. - Mostar tour was fun and enjoyable. Just the right amount of time so you can spend plenty of the remaining time exploring on your own. Tour guide gave amazing recommendations for food and ice cream spot (kiosk on the left side and right before you walk by a large building that looks to be a mosque) - You are in charge of your own lunch but good thing about Bosnia is that it is much much cheaper than Dubrovnik. - Waterfalls were lovely and relaxing. Plenty of beach bars set up around for you to grab a beer while surrounded by waterfalls. Tip: wear crocs or any type of water shoe or sandal!!! The water is nice but barefoot could be a bit painful. Overall amazing experience for all ages and I would recommend to friends!
Would thoroughly recommend this tour. Whilst it is long (11-12 hours) and involves quite a long coach journey, the coach was air conditioned and very comfortable. Both the tour guide (Eva) and the local guide in Mostar (Elma) were excellent - informative and very friendly. Mostar was really interesting and we enjoyed hearing about the background and recent history of the city. After some free time, we continued to the Kravice Falls where we were able to cool down by having a swim in the pools. Beautiful! The long drive was broken in both directions by a short coffee / comfort break in Neum. A day well spent!!
Everything about the Tour was fantastic! Maria gave such great information on Everything she could including the Yugoslav Wars from her own personal experiences. She didnt sugar-coat anything, so that we were given the best possible information, especially when we passed through certain Towns like Stolac. She gave us an insight into how life for the Bosnian People is still affected by the Wars and how they just get on with it. The Driver Pero was warm and friendly as well and made sure that we had enough time to see the points of interest that Maria was pointing out. The Tour guide (Alan, I think his name was) who met us in Mostar was also brilliant, very informative and took his time to explain everything so that no one missed any information. One point of interest was driving past Luke Modric's agents Villa Complex in Bosnia and explaining the Story of how he didn't pay the Tax which made everyone laugh. The Waterfalls were nothing short of spectacular to which Maria stated everyone would enjoy, and she wasn't wrong. Thoroughly worth the money and a brilliant experience.
Had a wonderful tour with Select Dubrovnik. Our guide Maria and the driver (forgot his name I'm so sorry) were a funny duo. They were so friendly and informative. Maria is a great story teller about her personal experiences with the war. It was very informative and Kravice (waterfalls) was more amazing than the photos. Mostar was a beautiful large village and had many souvenirs shops and cafes/restaurant at a very inexpensive price (kunas & euros accepted). There are some checkpoints on the way since the Croatia and Bosnia-Herzegovina territories are rather intertwined. However I heard that once the bridge opens (sometime in July 2022) this should help eliminate some check points and the path from Dubrovnik to Bosnia-Herzegovina should be much quicker. Book this trip with an open mind, have patients for the travel time, and while the summer heat can be tough, missing out on this trip may be worse. If you hate heat (summer months), people, and have no patience, book a private tour in Dec. Otherwise give it a try and don't forget to tip the driver and Maria!
This trip was the second one that I booked with this agency (I went to Montenegro before), and I was super happy that Ivan was my tour guide again. He is by far the best tour guide that I had so far. He is very knowledgeable and gives you an interesting overview of the area, the moving history and the local people, without overloading you with information. The pickup was smooth and on time (6:40 below the cable car station), the mini bus was clean, well air-conditioned and comfortable. Thanks to our bus driver who took us on less travelled roads, we had almost no waiting times at the border crossings. Our first stop was at the Kravice waterfalls, where we stayed for about an hour. To get access to the waterfalls we paid an extra 10 €. We arrived pretty early in the morning, so we were lucky as not too many people were there yet and we had a perfect view on the waterfalls. They are absolutely beautiful and it is very nice to just sit there and listen to the rustling water. From there we continued our journey to Mostar, where a local tour guide showed us around the old town and introduced us to coffee traditions at the turkish house. The small town with its famous Stari Most is very pretty and definitely worth a visit. Unfortunately it can be very crowded because of many tourists and you need to pay attention on your valuables. Still, I would highly recommend this trip to everyone!
The mini coach pick up was very professional and coach was Immaculate. Our tour guide was extremely knowledgeable and funny. The waterfalls were so spectacular the only word that comes to mind is WAAAOOOO. Our trip around Mostar and Turkish house was fascinating. We would definitely recommend this trip out to anyone. Absolutely Fantastic Day Out.
Ivan was the best tour guide! He was truly passionate and made every moment exciting. Views were beautiful
Me and my girlfriend booked the Mostar and Kravice falls day trip from Dubrovnik. Alex was our guide and driver. To start with the service was excellent. Extremely punctual, polite and considerate, always driving lawfully and felt very safe at all times. He was very knowledgeable, extending beyond the basic historical facts about the sights. We discussed a great deal of topics spanning geopolitics, religion, science etc. It really felt like travelling with a friend and not a guide. The experience ended up being way better than expected and i cannot recommend their services enough.